The VPro Series Can Help.
Consistently well seated aligners. Ask any ortho provider and they'll tell you, it's one of the most important factors in determining a successful aligner treatment outcome. Simply put, if your aligners don't fit, then your aligners don't grip. And no grip = improper and unpredictable tooth movement.
So, how does one get their best fit? Look no further than the VPro™ Series line of products from Propel. The VPro Series utilizes high-frequency vibration to deliver gentle, yet powerful vibrations that properly seat aligners in place.
Unlike other vibration devices, the VPro Series has unique C-shaped mouthpieces that are flat and designed with your comfort in mind. Another unique (and maybe the best) feature of all—the VPro Series requires just five minutes of use per day. Let's take a closer look at two off-track aligner cases that greatly improved as a result of VPro5® use.
Back on Track During Active Treatment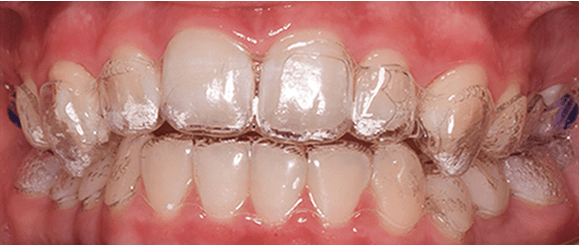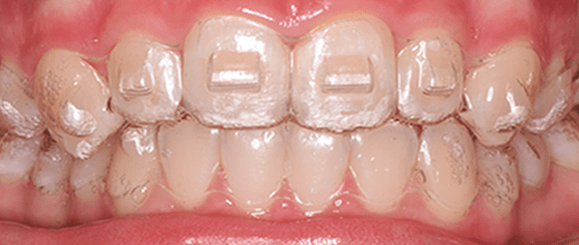 Above is an example of a patient who was in the early stages of aligner treatment. The patient had been prescribed a Carriere® Motion™ Class II appliance for two months, prior to aligner therapy.
Unfortunately, the patient didn't return to the clinic to pick up the first set of aligners and rescheduled the appointment for much later. Life happens right? Well, the aligners didn't fit upon return and the patient (understandably) complained of significant pain.
New impressions and temporary retainers would be needed as well as a new digital scan for refinement trays. Two more appointments would be necessary to deliver the new retainers and aligners. Instead, a VPro5 was given to the patient and she left that day with better-seated aligners. She returned two weeks later for attachments and the aligners were seated properly.
Back on Track During Retention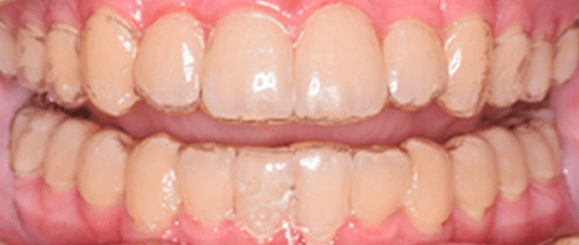 Here's another example, this time of a patient who had completed treatment and was then in retention. Following treatment, the patient was prescribed Vivera® retainer trays. Unfortunately, he had not been compliant with his retainer wear and returned to the practice one year later with some relapse in the lower anterior.
The cost of re-treatment was not agreeable to the patient's father, so much so that it almost resulted in him deciding against initiating orthodontic care for his younger son, for fear that there would be another compliance issue and potential waste of money.
Instead, a VPro5 was given to the patient and he used it for five minutes right in the office. As you can see in the above image, his fit immediately improved. The patient returned four months later with perfectly seated retainers.
Cases courtesy of Dr. Thomas Shipley – VIP Platinum Plus Invisalign® Provider and Top Propel Provider
Is VPro Right for Me?
Now you may be wondering, is the VPro Series right for me? The VPro Series is suitable for most aligner patients, no matter active treatment or retention. Consistently seating aligners throughout treatment often leads to additional orthodontic benefits too. Reduced discomfort1,2 reduced treatment time2,3,4 improved predictability2,3 reduced refinements3—the list goes on.
The VPro Series is especially effective for those patients who don't wear their trays or retainers as often as they should. For more information about the benefits of high-frequency vibration therapy, 
consult your treating clinician
.
About VPro Series Aligner Seaters
Propel's VPro Series is the first and only high-frequency vibration (HFV) product line to support both active treatment and retention in just five minutes per day. Designed for at-home or on-the-go use, the VPro Series is your best orthodontic experience yet. The VPro5 is Propel's pioneer HFV device. Its features include a convenient five-minute wear time, gradual and comfortable ramp up to full vibration frequency and intuitive light notifications for easy operation. The VPro+ is Propel's latest addition. Along with all of the best qualities of the VPro5, the VPro+ features a sleeker design, waterproof vibration device, wireless charging, compact travel case and a patient mobile app. Available in the US only.
References:
The VPro line of products are marketed as aligner seaters | Rx Only | See Instructions for Use for Full Prescribing Information.
​Data on file
Data on file
Shipley T. Effects of High-Frequency Acceleration Device on Aligner Treatment – A Pilot Study. Dent J. 2018, 6(3), 32.
Alikhani M, Alansari S, Hamidaddin MA, Sangsuwon C, Alyami B, et al. Vibration paradox in orthodontics: Anabolic and catabolic effects. PLoS ONE 2018. 13(5):e0196540.