*The following is an excerpt from The Buzz on HFV by Dr. Bill Dischinger. Orthotown Magazine June 2019.
Case Study
An adult female patient had already been presented treatment options by her general dentist and another orthodontist. She was interested only in clear aligner therapy, and she was concerned about scheduling visits because of her busy life. She had a deep bite, a deviated midline, mandibular anterior crowding and rotations, and some lingual rolling of her mandibular molars. It wasn't the toughest case, but it was going to require compliance with elastics, and excellent tracking to correct her midline and deep bite.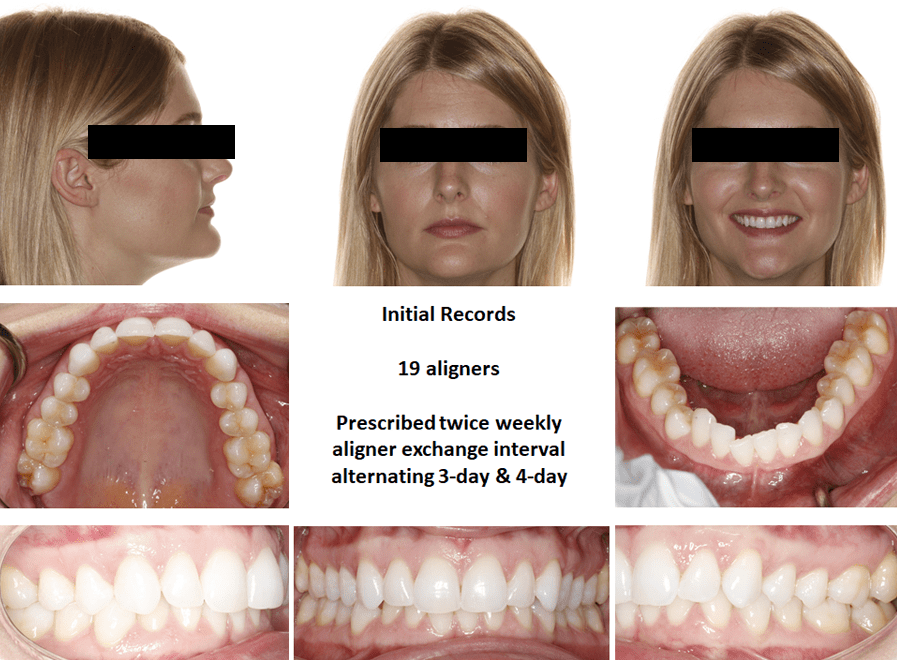 As a Damon™ Systems Certified Educator, I've been using Ormco™ Damon products for more than 18 years. Most recently, I've been involved in previewing the Ormco Spark™ clear aligner system in the North America market, with more than 60 cases completed or in treatment.
I recommended using Spark clear aligners, referring to testimony from other patients who had completed one series of aligners created by another manufacturer, then moved into Spark refinement aligners. We've been told on more than one occasion how smooth the polished edges of Spark aligners felt at the gum line, which could be particularly helpful with this patient's deep bite. Based on her interest in accelerated treatment, I also recommended the VPro+ HFV device, explaining how high-frequency vibration has helped my patients change aligners more quickly with excellent tracking.
Treatment Begins
At the patient's first follow-up visit, the initial series of 19 sequential aligners had been completed in 9.5 weeks. The maxillary arch was significantly broadened, with slight omega remaining on maxillary right posterior. Transformational improvements had occurred with leveling and alignment complete, arch form developed and deep bite nearly corrected. A refinement scan was taken, and the patient remained in Aligner #19 for two more weeks, until the series of 19 refinement aligners could be delivered. To facilitate correction of Class II subdivision right molar relationship and achieve coincident midlines, composite attachments were included on maxillary laterals, canines, second bicuspids and first and second molars. Cutouts were requested for Class II elastics on the right side only.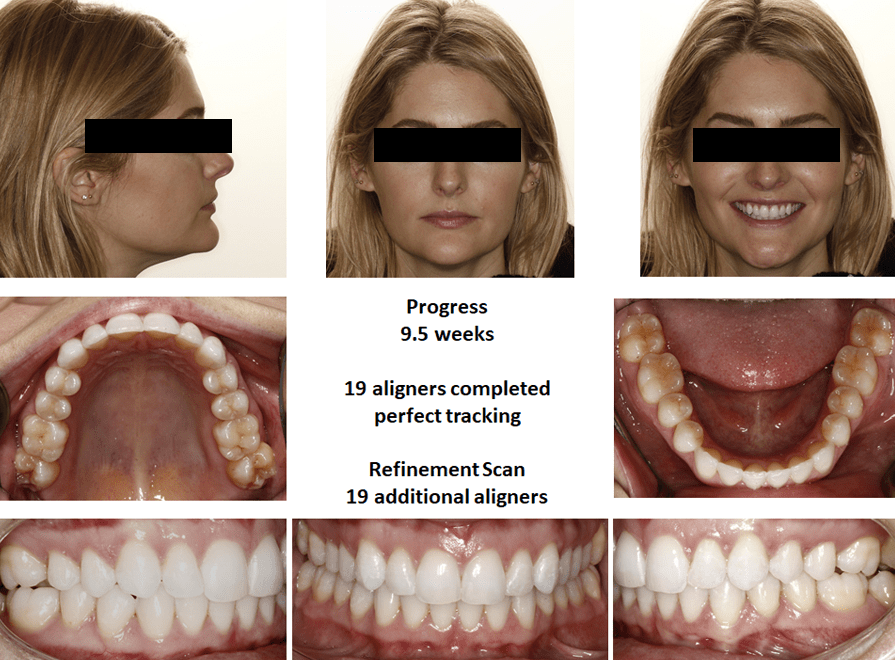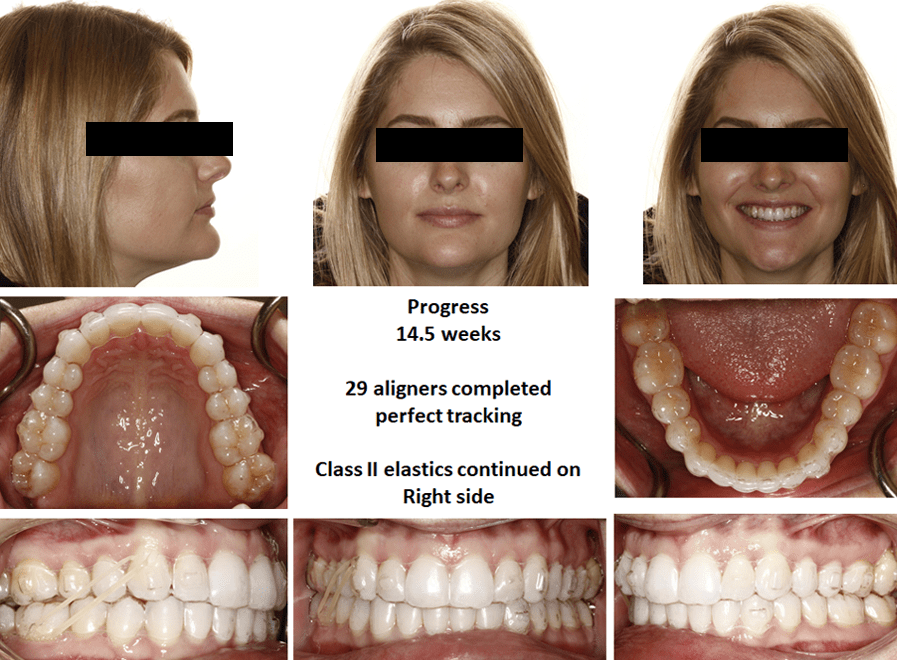 The same twice-weekly aligner advancement protocol was again followed, and a follow-up visit was scheduled in 5 weeks to review occlusion and make any adjustments necessary with elastics. At Visit 3, the dentition tracking had been excellent over the 29 sequential aligner exchanges, in what appeared to be fully expressed as prescribed movements. The aligners were fully seated and fitting perfectly. I recommended we continue with Class II elastics at 4.5oz on the right side to achieve Class I molar relationship and canine guidance.
At Visit 4, the results were both clinically and aesthetically pleasing, and the patient reported treatment as well-tolerated and "easy." Achieving results like this in a time frame of just over 4 treatment months is quite remarkable—this wasn't just mild anterior tipping. Importantly, there is clinically no visible sign of decreased root length associated with the prescribed accelerated treatment protocol.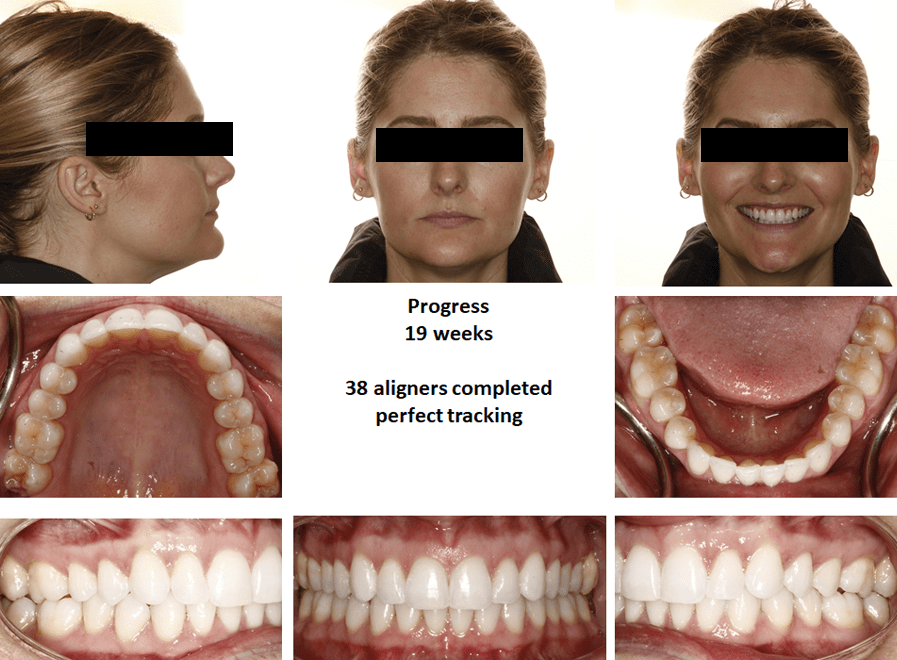 In my opinion, moving the midline, deep bite correction and uprighting molars to the occlusal plane in this time frame demonstrates enhanced seating and an aligner system capable of delivering consistent, controlled forces. The patient had a big role in the success of this case because she demonstrated excellent adherence to the prescribed orthodontic treatment plan. Her HFV compliance tracker showed she missed only one day, and she reported that she wore her aligners consistently all day, every day except for meals, and then quickly replaced them. She could literally see the changes occurring in photos, which kept her motivated to stay on track.
Follow-Up Retention
A great finish requires and deserves a great retention strategy. All prescribed movements had been achieved as programmed, and after completing 4 days in her final aligner, the patient thought her job was done. She did not wear her final 38th aligner for 5 days before returning for her next scheduled appointment. Orthodontic relapse can occur quickly, and the ideal lower anterior achieved by Aligner 19 had already begun to slightly shift. Fortunately, the high-frequency device was able to help comfortably seat the final aligner and effectively "recapture" the lower incisors.
This occurrence underscores the importance in clear aligner therapy to provide clear instruction for patients to remain in their last aligner until their next scheduled visit, even if it is beyond the normal prescribed wear time. The patient now uses HFV for 5 minutes daily to preserve the Class I bite and beautiful finish she'd dreamed of for years.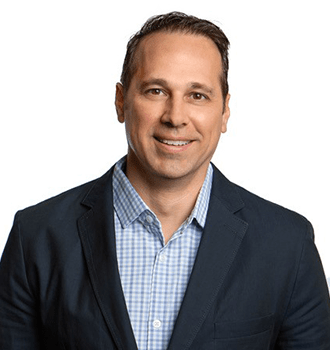 Dr. Bill Dischinger earned his degree from the Oregon Health & Science University School of Dentistry and his certificate in orthodontics at Tufts University in Boston. Dischinger, an adjunct professor in the orthodontics department at the University of The Pacific in San Francisco, is one of 12 certified Damon instructors who have taught and lectured extensively on passive self-ligation with the Damon System. He is also a member of the American Association of Orthodontists, the Pacific Coast Society of Orthodontists, the American Dental Association and orthodontic professional associations that enable him to participate in continual education and remain current on advances in orthodontic treatment.
The VPro line of products are marketed as aligner seaters | Rx Only | See Instructions for Use for Full Prescribing Information.