Dr. Grant Olson of Innovative Dental is passionate about giving people brighter and healthier smiles through the use of innovative techniques. By investing in the latest technology and training, Dr. Olson and his team are able to provide patients with the highest level of dental care, from preventative to cosmetic. Dr. Olson was an early adopter of Propel® (2015) and has been a Top Provider ever since.
Dr. Olson Propel Case Example

Chief Complaint: Patient has mild sleep apnea with excessive snoring habit. Reports that he sleeps with CPAP machine. Feels like there is not enough room for his tongue at night when he is trying to sleep.
Treatment Modality: Aligners
Treatment Aid: Micro-osteoperforation™​ (MOPs®)
Total Treatment Time: 8 months
Total Estimated Treatment Time without MOPs: 16 months
Q: Dr. Olson, you are one of our most loyal and highest performing doctors! How does it feel to be a Top Provider?

A: I am really just blessed to be able to share the opportunity to do what I love with people I care about. It is an honor to be given the title of a Top Propel Provider, but it isn't achieved alone. Our team is dedicated to providing the best to our patients and that includes Propel.
Q: What would you say makes your patient care approach unique?
A: Many practices look for techniques and systems that best benefit them without taking into consideration what it does for the patient experience. We look to the patient first. While there is a balance to consider, the patient will always win at Innovative Dental. We actively choose to be the hero, not the winner.
Q: Walk us through a day in the life of Dr. Olson.

A: I believe it is important to start every day with a faith based source of wisdom, usually through the Bible, a podcast, or message on YouTube. I tend to do this during my morning workout routine. This dedicated time to personal development is key to growth as a leader. During the work day, I do my best to lead by example, making our patients at hand the priority. At home, I most enjoy ending the day with my family. I do not take for granted the opportunity to be present for them, going to their activities and being given the opportunity to tuck them in at night. I am blessed to do what I love so I can share it with those I love, every day.
Q: What benefits do you see in your practice as a result of utilizing micro-osteoperforation?

A: On the practice side, we're able to see more patients with the increased available chair time. It decreases our cost on extended treatments, helps us tackle complicated cases and it provides priceless reviews from raving fans.
Q: What has patient response been like?
A: For the patient, micro-osteoperforation enhances their orthodontic experience tremendously both in time of treatment and quality of result. Their treatment requires fewer visits to our practice, a shorter overall treatment time, decreased soreness, and minimizes their need for refinements.
Q: What is the average treatment time saved on a typical MOPs case?
A: Our treatment time has decreased by 50%-70% for micro-osteoperforation cases. The amount of time gained both in the life of the patient and chair time of the practice is priceless.
Q: Does MOPs give you more confidence to treat tough cases with aligners?

A: Micro-osteoperforation allows us to focus on tough to treat areas that most would avoid with clear aligner systems.
Q: What percentage of your patients receive Propel?

A: 100% of our adult patients who utilize clear aligner systems receive the micro-osteoperforation procedure.
Q: Dr. Olson, you are a true MOPs expert. We've even seen you do MOPs on yourself! What would you say to a patient considering MOPs treatment?

A: It is a quick simple addition to any orthodontic treatment that can impact your treatment success tremendously! Save yourself time, money and frustration and make sure you choose a provider who utilizes it!
Q: Having been a Propel Provider since 2015, how has incorporating Propel products affected your practice growth and bottom line?

A: The benefit is really immeasurable. Beyond the priceless time gained, utilizing Propel sets us apart from any other provider in our area, giving us the competitive advantage. Most recently we've been able to offer clear aligner therapy to more of our patients who travel from out of state for cosmetic treatments. Pairing alignment with cosmetic, provides for a longer lasting and higher quality result. We wouldn't be able to do this without Propel minimizing office visits and overall treatment time. This alone opens up a whole different opportunity to share our innovative experience with patients without a geographical limit.
Q: Finally, any plans of expanding in the future?

A: We are passionate about growing and changing to meet the needs of what matters most, our patients. In the fall of 2020 we will be opening our second location in the Springfield area. This new location will provide us with the opportunity to impact the smiles of triple the patients we do currently. We do not take this opportunity lightly and are dedicated to always maintaining the quality care and unique experience we are known for.
Watch Dr. Olson's Free On-Demand Webinar
Best Practices to Increase Profitability in Your Practice Dr. Olson reviews the science behind micro-osteoperforation, shares his best practice techniques and presents cases.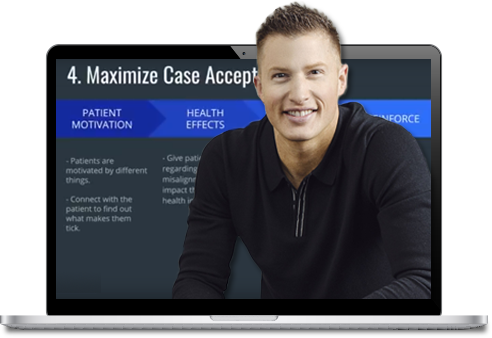 Dr. Olson Fill in the Blanks
If I weren't a doctor, I would be a BBQ Pit Master. Grilling for friends and family is something I enjoy most outside of dentistry.
One little known fact about me is that I hate wearing shoes. I often joke, calling them foot prisons. Barefoot all the way!